On March 8, 1982.
James J. Green went in search of the American dream and founded JJ Fish on Martin Luther King
Drive in Chicago, Illinois.
 At this small restaurant, Green sold fresh fish to his customers and charged $1 to fry each fish in his "secret" batter.

Not only was his fish fresh, but his batter was irresistible! Through his love and dedication of fresh and delicious food, he turned his small store into the very successful restaurant business it is today!
In less than 20 years, JJ Fish had expanded into more than 130 restaurants – with 90 restaurants in Chicago alone! The original battered fried fish restaurant has not changed, except to include new menu items and a very successful dine-in and carry-out business.
Here at JJ Fish & Chicken, we are so much more than a fast food restaurant! Our love for what we do is a testament to our success, just as it was for our founder, James J. Green.

Our Food
JJ Fish & Chicken offers some of the best tasting dishes you have ever eaten! And we offer something for everyone! Our menu includes crispy fried chicken wings, delicious chicken tenders, succulent catfish, fried fish and even jumbo shrimp. If that isn't enough, JJ Fish & Chicken also offers mouthwatering sandwiches, including fried or grilled chicken and fish fillets. Still not hungry?
We even have satisfying salads for when you're in the mood for something lighter! Rounding out this menu is a complete range of sides and desserts, including slaw, spaghetti, fries, poppers, cheese sticks, hush puppies, crab salad, potato salad, onion rings, fried okra, cheesecake and a variety of pies! And best of all, everything is DELICIOUS!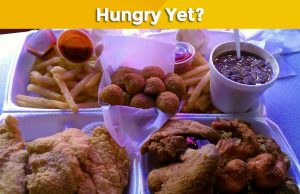 Virtually every menu item is prepared using time-tested recipes and preparation techniques. Many items are cooked to order for maximum freshness and taste. Because of our good food, generous portions and reputation for value, our restaurant concept appeals to EVERYONE!